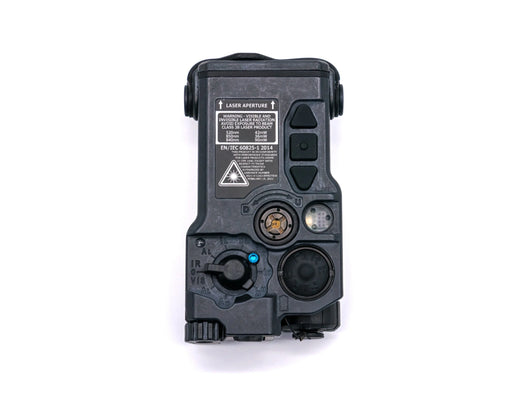 Wilcox RAIDxe - FP - Black housing / red visible laser
Regular price $3,995.00 Sale
Wilcox Raid-Xe
The Wilcox RAID-Xe is Wilcox's next iteration in the RAID line of next generation aiming lasers. The RAID-Xe uses VCSEL laser technology to produce an amazingly clear IR laser and Ir illuminator.  The Wilcox RAID-Xe mounts to any standard picatinny rail. Previous aiming lasers have used edge emitting laser technology. This can cause irregularities in the illuminator, often referred to as amebas. VCSEL technology is a center emitting laser which produces a much cleaner beam over legacy edge emitting laser diodes.
The RAID-Xe is primarily operated with a mode selection dial and fire control button on the top of the unit.  This allows for easy manipulation of the laser functions to fit the environmental need. The RAID-XE can also be operated with an included proprietary tape switch.
In addition to a very clean illuminator, the Raid-Xe has a much smaller footprint than legacy laser aiming devices. This makes the laser easier to run ambidextrous and increases compatibility with other accessories. The controls are also in improved locations.
The illuminator has both flood and extended throw illuminator modes so the Wilcox RAID-Xe can be adjusted for different environmental conditions. The illuminator divergence adjustment is in the rear so the operator can adjust on the fly without breaking a master grip. This is key when manipulating a gun at night.
Our favorite feature of the Wilcox Raid-Xe is the ability to manually adjust the output of the laser and illuminator independently of each other. This allows user run a more powerful illuminator but setting the laser to a level where the target is not bloomed out.